Hike to Santis, the highest peak from Appenzell
We've moved to Switzerland one year ago. We managed to visit Appenzell area three times in this whole year. The region is located in the NE part of the country and each time we visit it offers to us a special vibe. Switzerland has over 65.000km of hiking paths marked along the entire land. Each one of them gives the hiker the freedom of defining the exploration rythm.
What we know for sure about Switzerland is that it stands as one of the countries with the most diverse transport infrastructure toward all touristic points (funicular railway, train, cable, gondola). Due to this, the number of places where you can arrive on it wearing only a pair of jeans, a t-shirt, a jacket, and a ticket is quite narrow.
I am talking about this because, despite the accessibility of the Appenzell area, its beauty can be discovered mostly when you are getting lost on its paths. Aplstein, a subregion of the Alps from Appenzell area is composed of three lakes (Seealpsee, Fälensee, and Sämtisersee) and three regions with mountains (central, southern, and the northest part). Probably it's the most perfect area for hiking that attracts nature lovers and offers them authentic swiss mountain inns.
Hiking on Ebenalp – Schäfler – Säntis – Wasserauen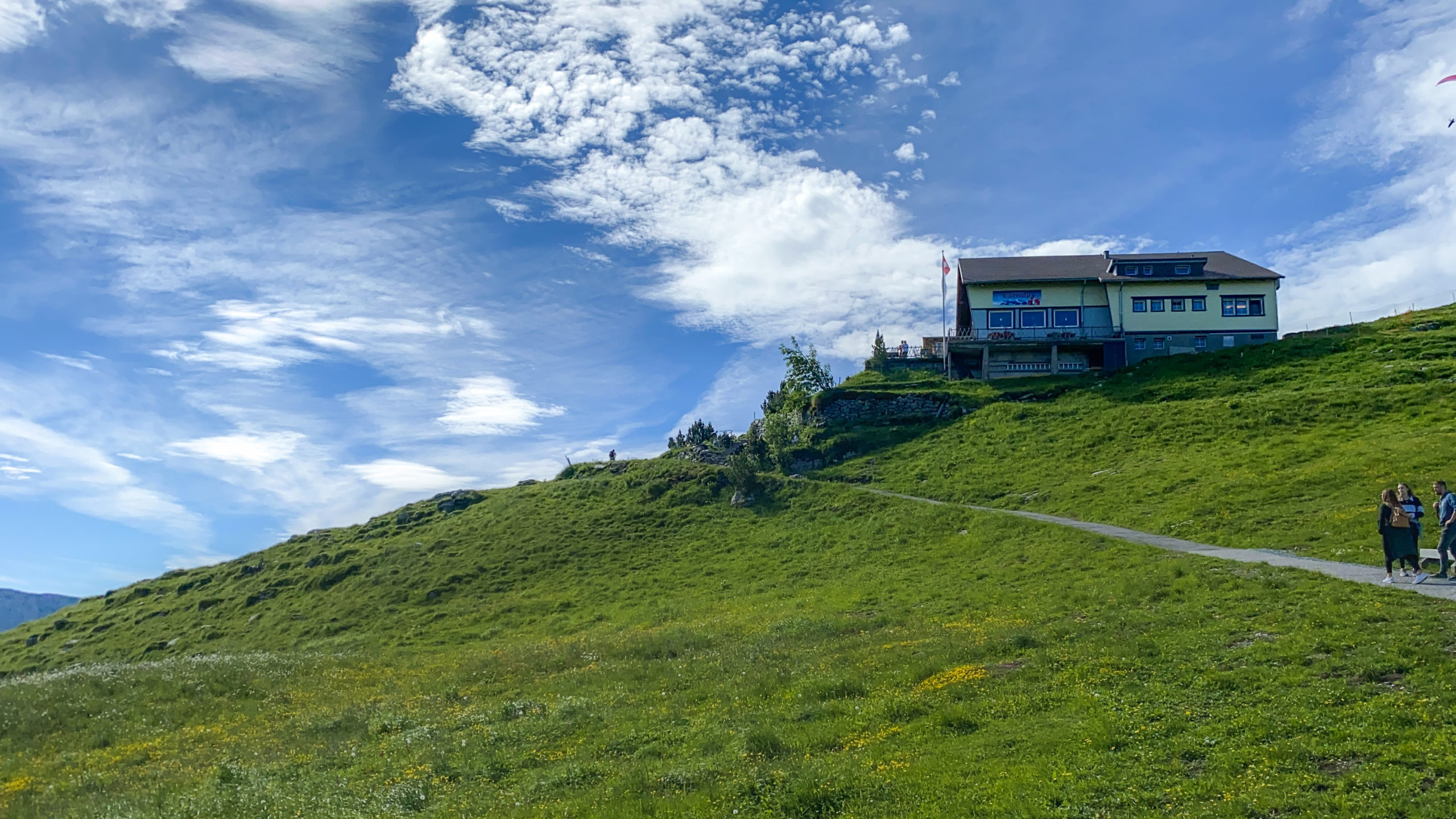 Overview: 23km distance, 1200m elevation, 1700m going down, 10h time, difficulty rate advanced
Link: https://www.strava.com/activities/5569546322
To discover its beauties, I would strongly advise doing at least one hiking path around the area. Here you can find alternatives for hike in Appenzell, Alpstein.
When to do this path?
I am writing this in the first days of June and was a perfect period to do it. I think it's a perfect time to enjoy a mix of sun (if the forecast will be on your side) with an intense green color of the grass, astonishing mountains and landscapes that will become a true point of reference for how other areas of Switzerland are looking. I although think from my opinion, that it's a doable path at least till October.
After this period it's really up to you how much you enjoy to embrace the snow. During the winter I am not quite sure if the path is accessible. You should check it up ahead if this is your plan.
Necessary hiking gear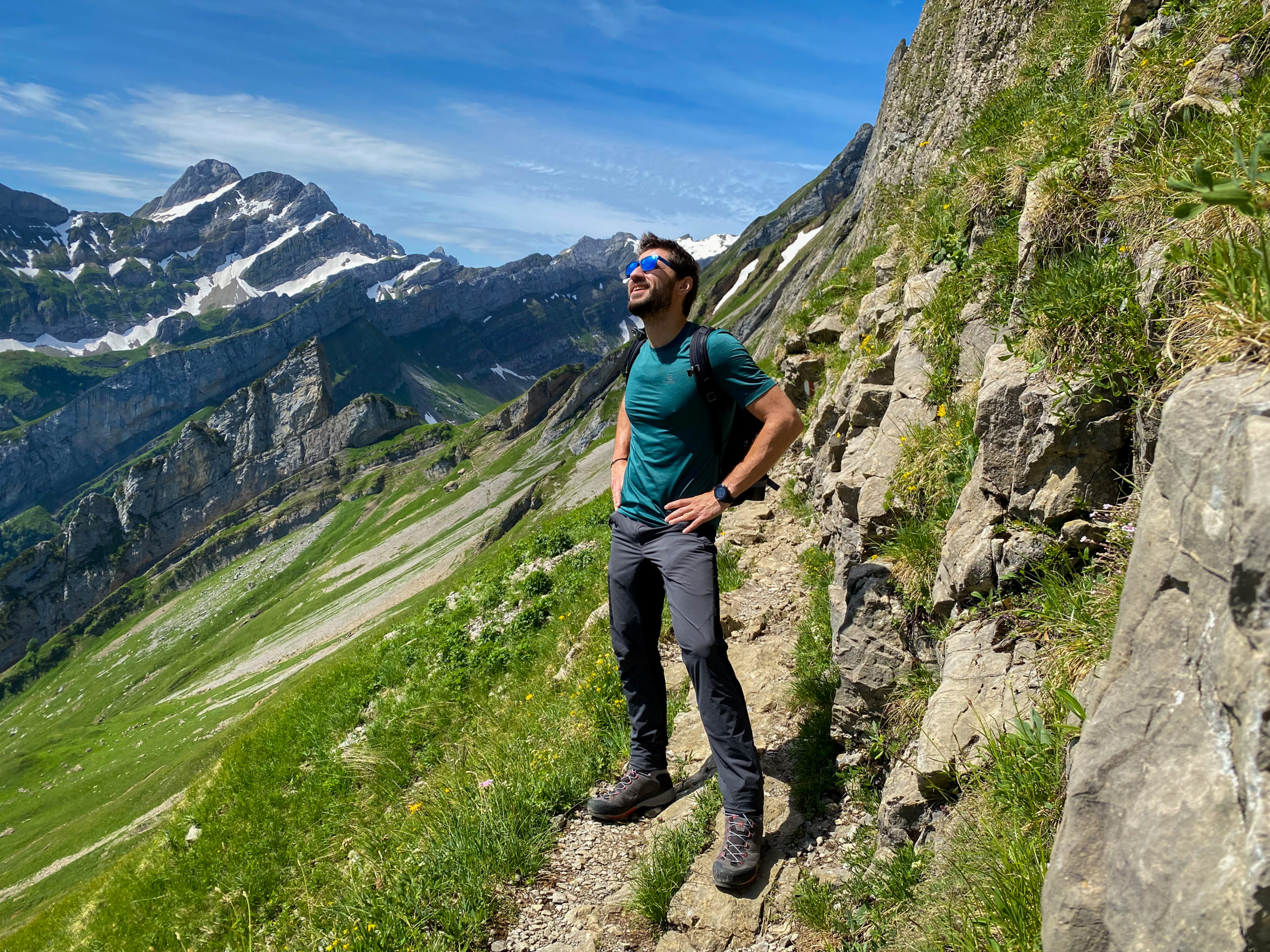 For this hike, I would strongly advise choosing some technical hiking equipment. Maybe a wind stopper and waterproof jacket, some hiking boots that you can rely on to not slip, and which offers you good support on rocky areas. Last, but not least... sun lotion. This if you don't want to pass through one experience I had on Jungfraujoch after which the mountain and the snow showed me the true power of one unhealthy tan.
Besides this, in case that you are on the path when the sun goes down maybe to have with you, some lightning source would be a fit. The area doesn't offer too many concerns in terms of wildness, being the country where you are going to see the most often animals cows, dogs, horses, and sheep.
What I can say for granted is the behavior of the cows that are left free during the night. It's not usually a pattern, but you may encounter it. If they have as well babies, extra attention and distance from them is advised.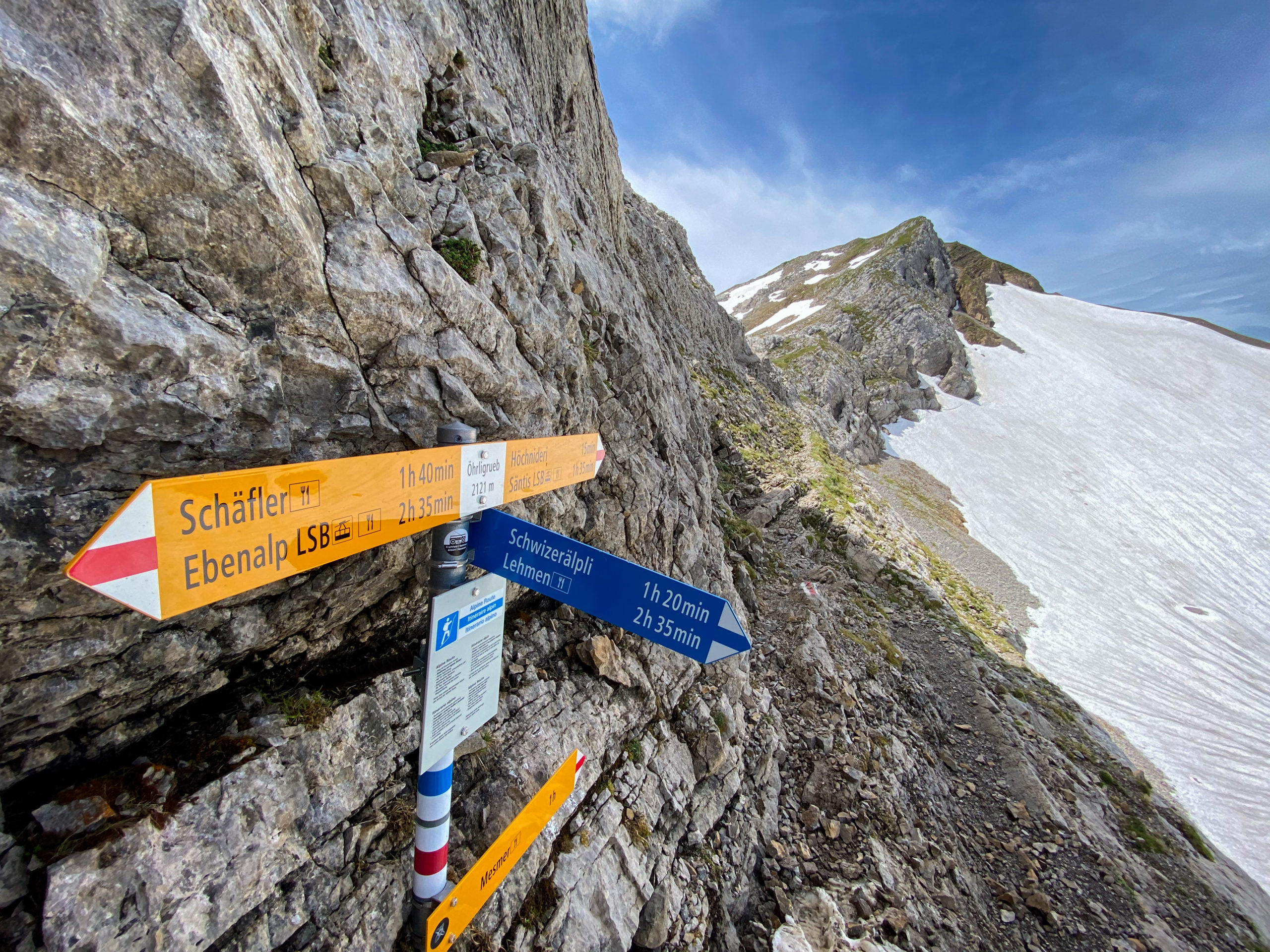 From where to start
The starting point of the hike path is located in the small village Wasserauen. To get here, you can jump onto a train and go down exactly near the place where you can start the hike. For this option, SBB is the official buying tickets platform for almost every middle of transportation from Switzerland with some small exceptions.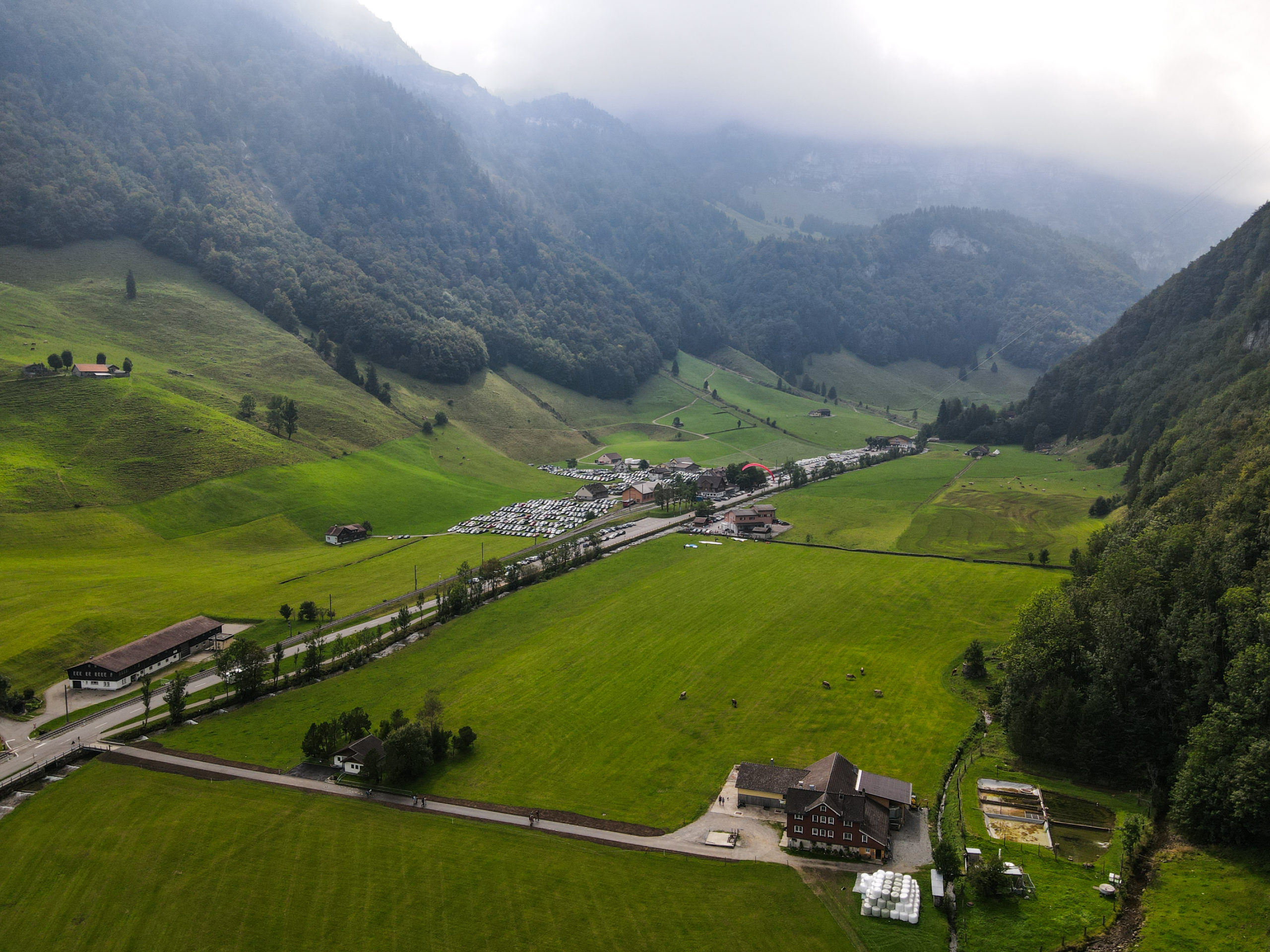 We've preferred the car since we're living here and it's more affordable for more than one person. It's a 1.5h ride. You don't need to worry about parking places, because you'll find some spots on Google Maps where to park. There, some guys will redirect you to the appropriate parking place. The cost of the parking is 3CHF per day.
We've started our hike from Ebenalp (1600m). This is the highest point of the right wall which stands on near Wassseerauen. You can pick up a cable car for it. It costs 22 CHF for a person without any deductions or discounts. one-way . If you want to choose Wasserauen - Ebenalp, you can do it as well, but the entire path till Santis is quite long and this segment will cover more than 2h.
The hike
From Ebenalp the path goes with a small ascension. Around the 2nd kilometer the landscape start to blossom. On the left side, the Seealpsee lake will reflect the whole valley. On the right side, you're going to encounter a gorgeous view over the north side of Switzerland (from Konstantz till Saint Gallen).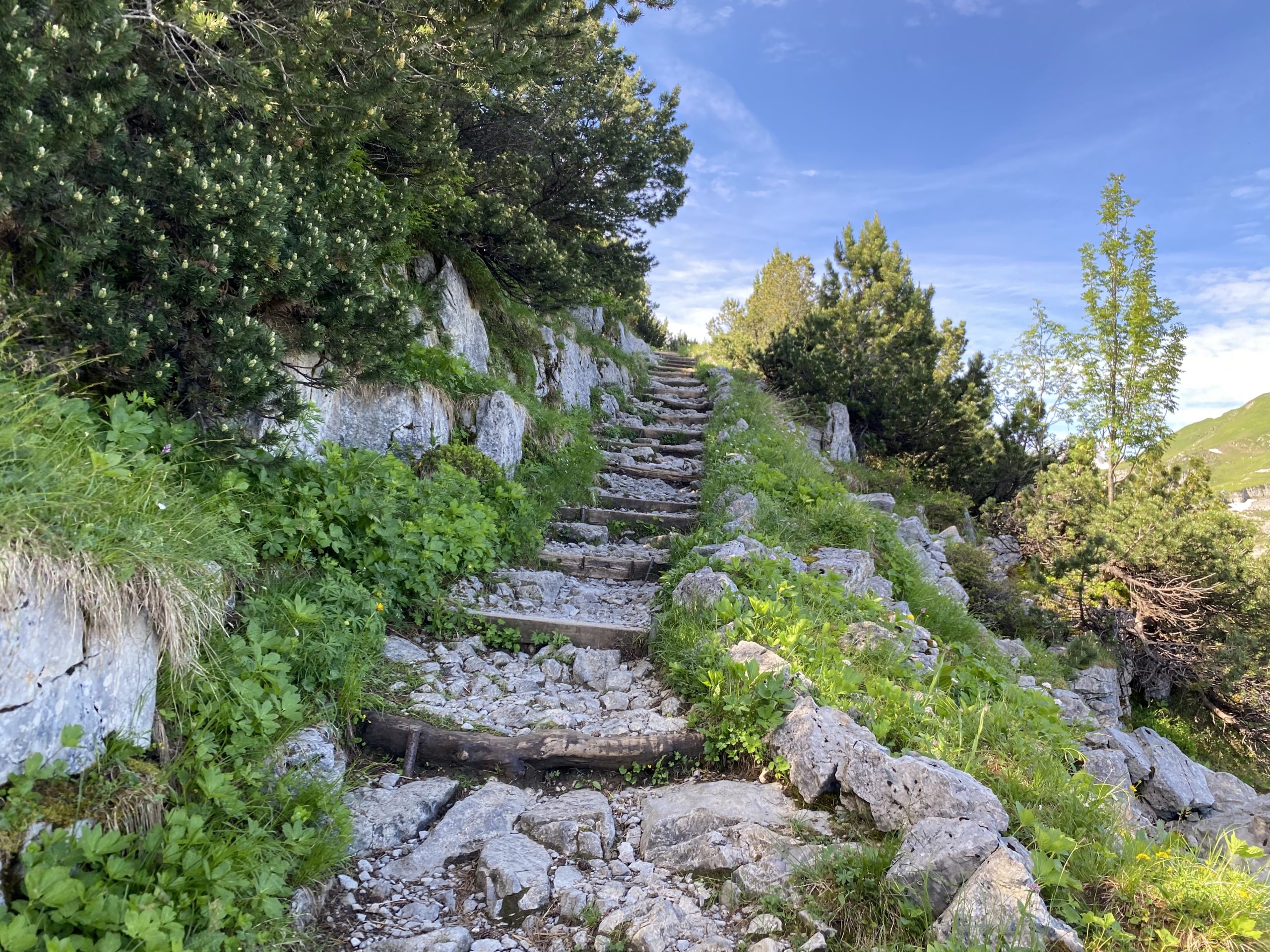 Up until Schäfler you're not going to make more than one hour. From here, the path start to be more challenging, offering some technical sections. The landscape will compensate, I can assure of that. The path will go along one cliff and around some areas you'll need to tackle it using the anchored chains. If you have ever been into Romania, this area looks similar to the Piatra Craiului Mountains from the Meridionals Carpatians.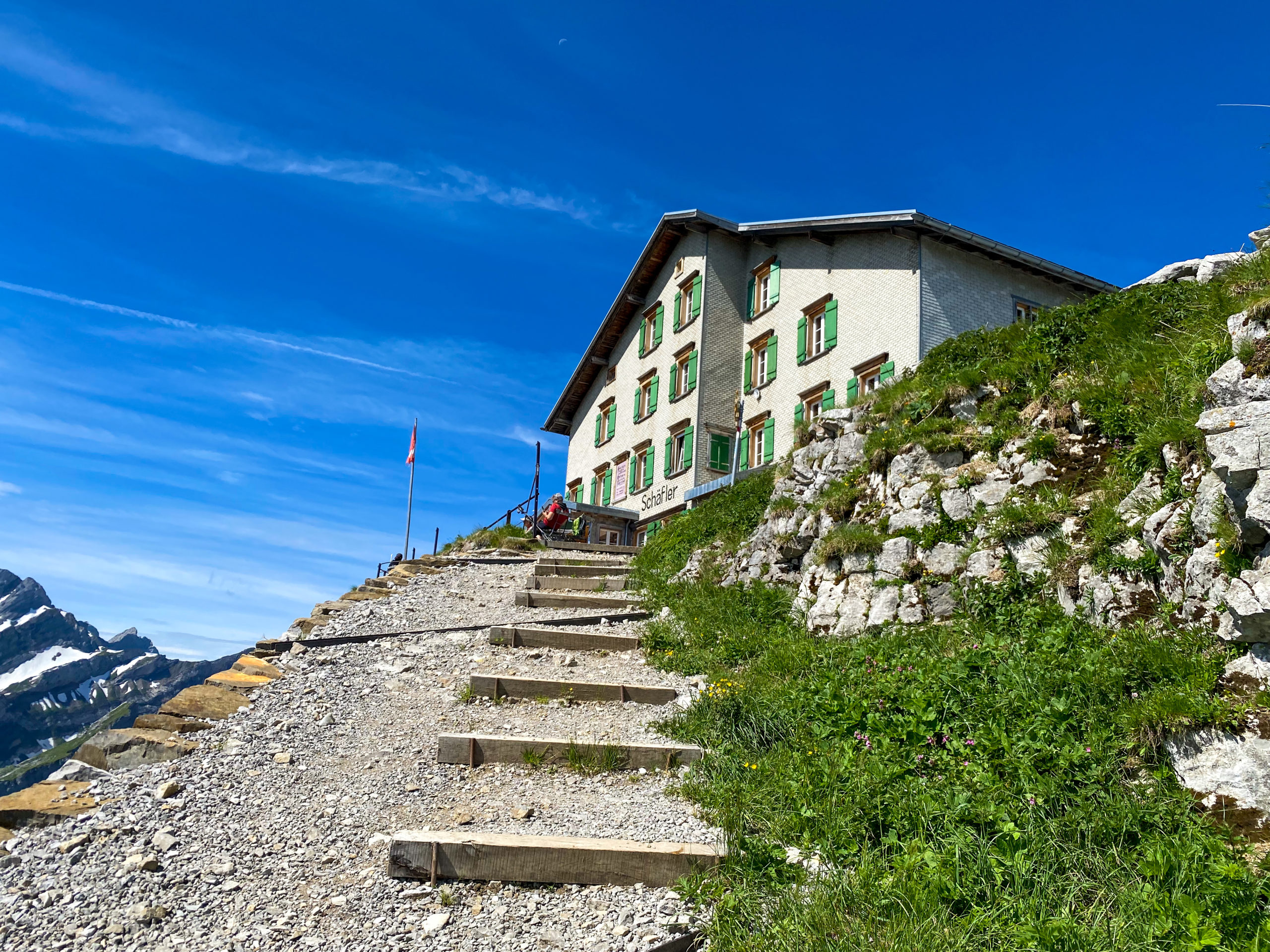 The way up to Säntis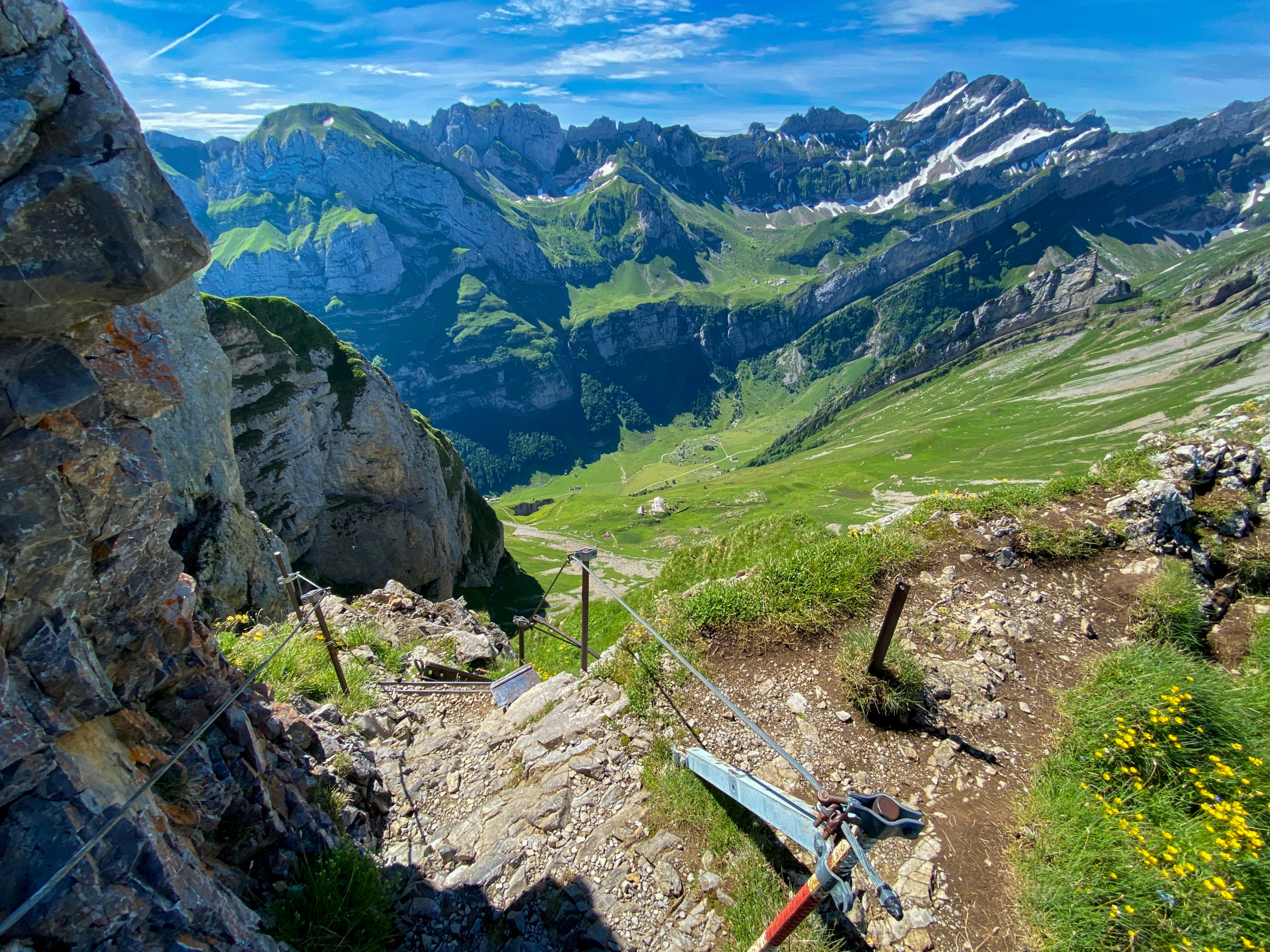 Până în apropierea vârfului Säntis poteca te va ține cam în același ritm și cu aceeași intensitate. Aș recomanda ca acest traseu să fie totuși făcut pe o vreme bună și MeteoSwiss să confirme lipsa ploii. De ce MeteoSwiss? Pentru că este aplicația cea mai apropiată de adevăr când vine vorba de vreme aici. În caz negativ măcar să fiți genul de persoană care are o plăcere să se plimbe prin ploaie pe munte.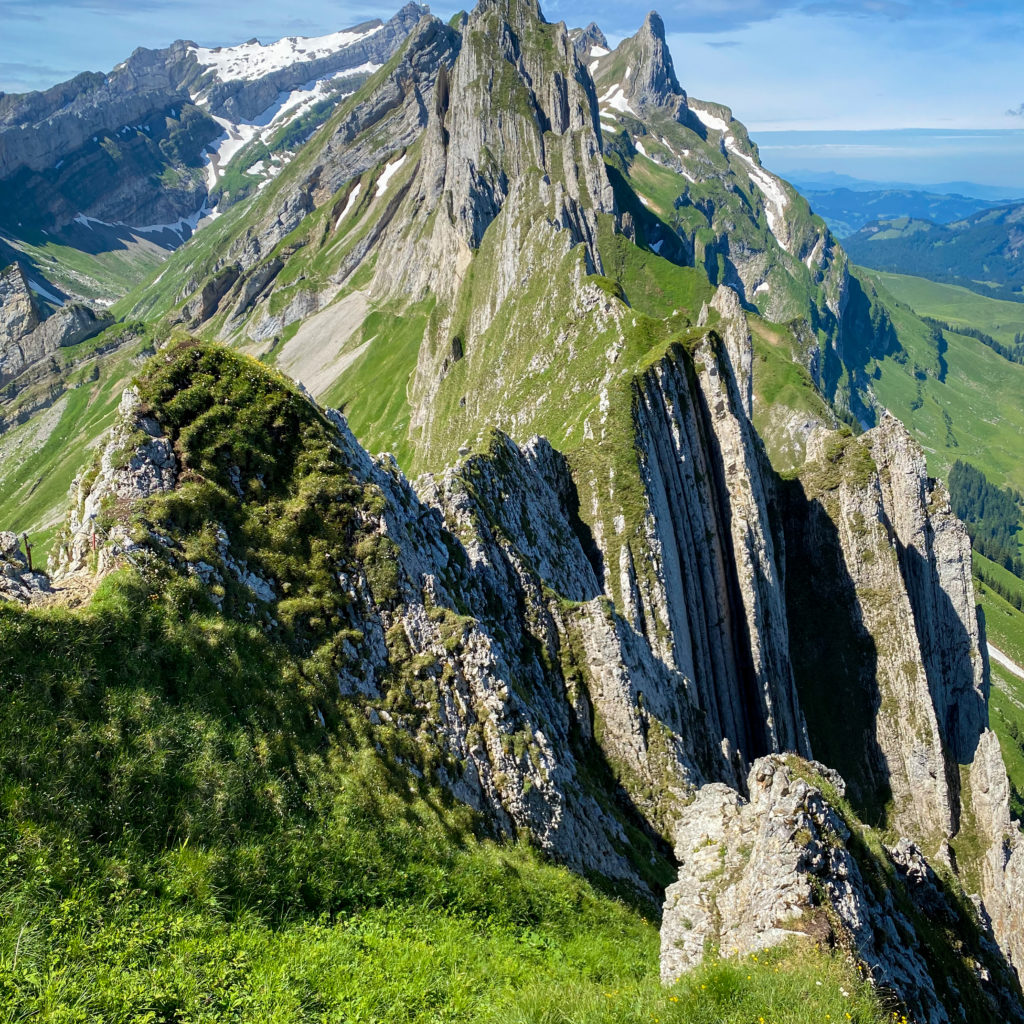 Imediat după crestele Altenalp Türm și Höch – Niederi Sattel va începe ascensiunea spre platforma vârfului Säntis. Există șanse ca traseul să prezinte secțiuni cu zăpadă și nu cred că vei putea merge pe aceeași potecă. Noi mergând pe acest traseu in iulie, am dat de acest impediment.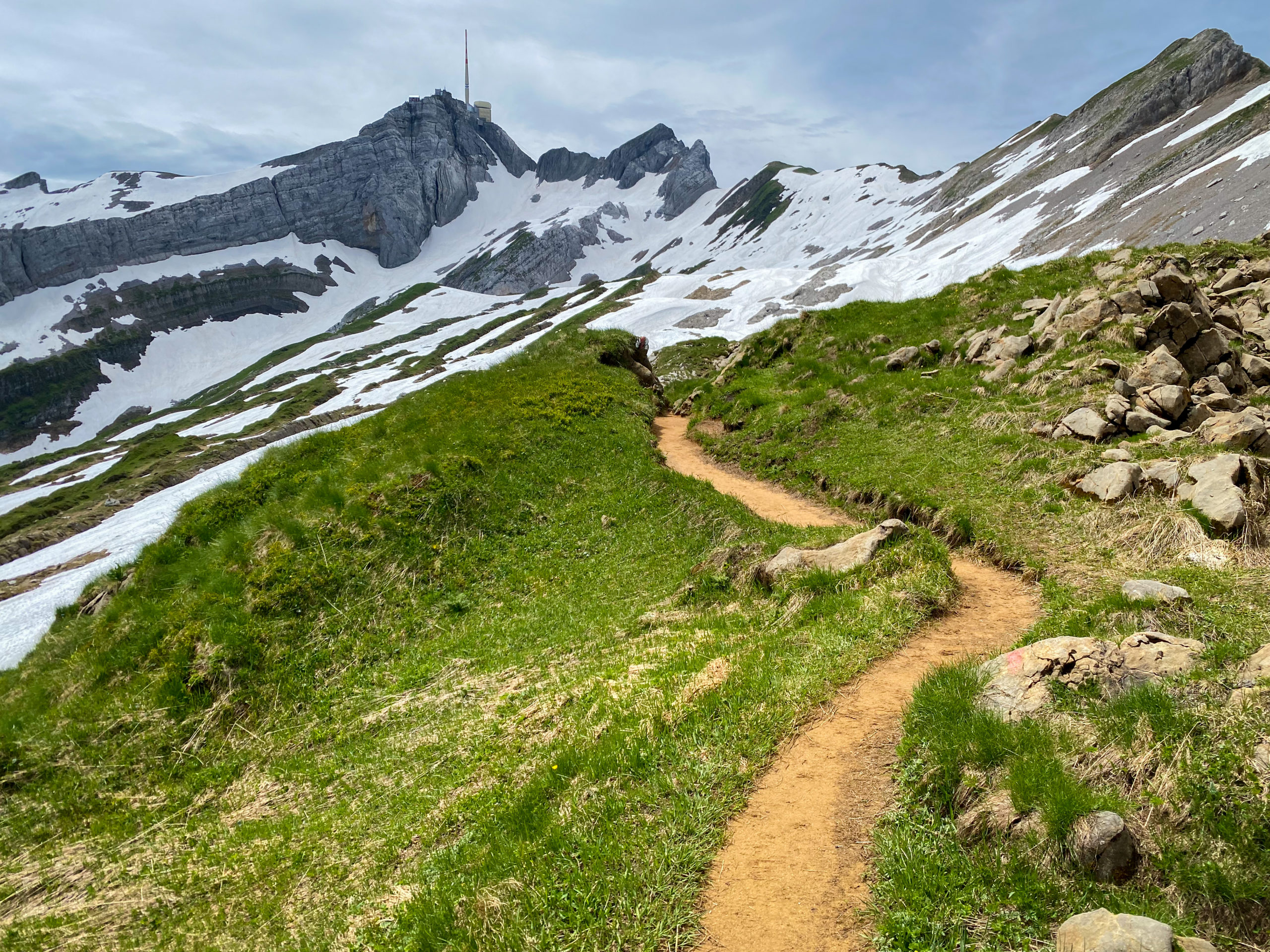 Un mic popas și o sinteza scurtă v-ar putea ajuta destul de mult. Noi am avut două persoane în față care au decis să devieze de la traseul marcat. Când am analizat cu atenție, aceștia urmau o potecă deja formată prin zăpadă. Aparent era alternativa la poteca marcată. V-aș sugera ca atunci când poteca nu mai este vizibilă, să vă uitați în jur dacă există urme deja formate în zăpada din apropiere.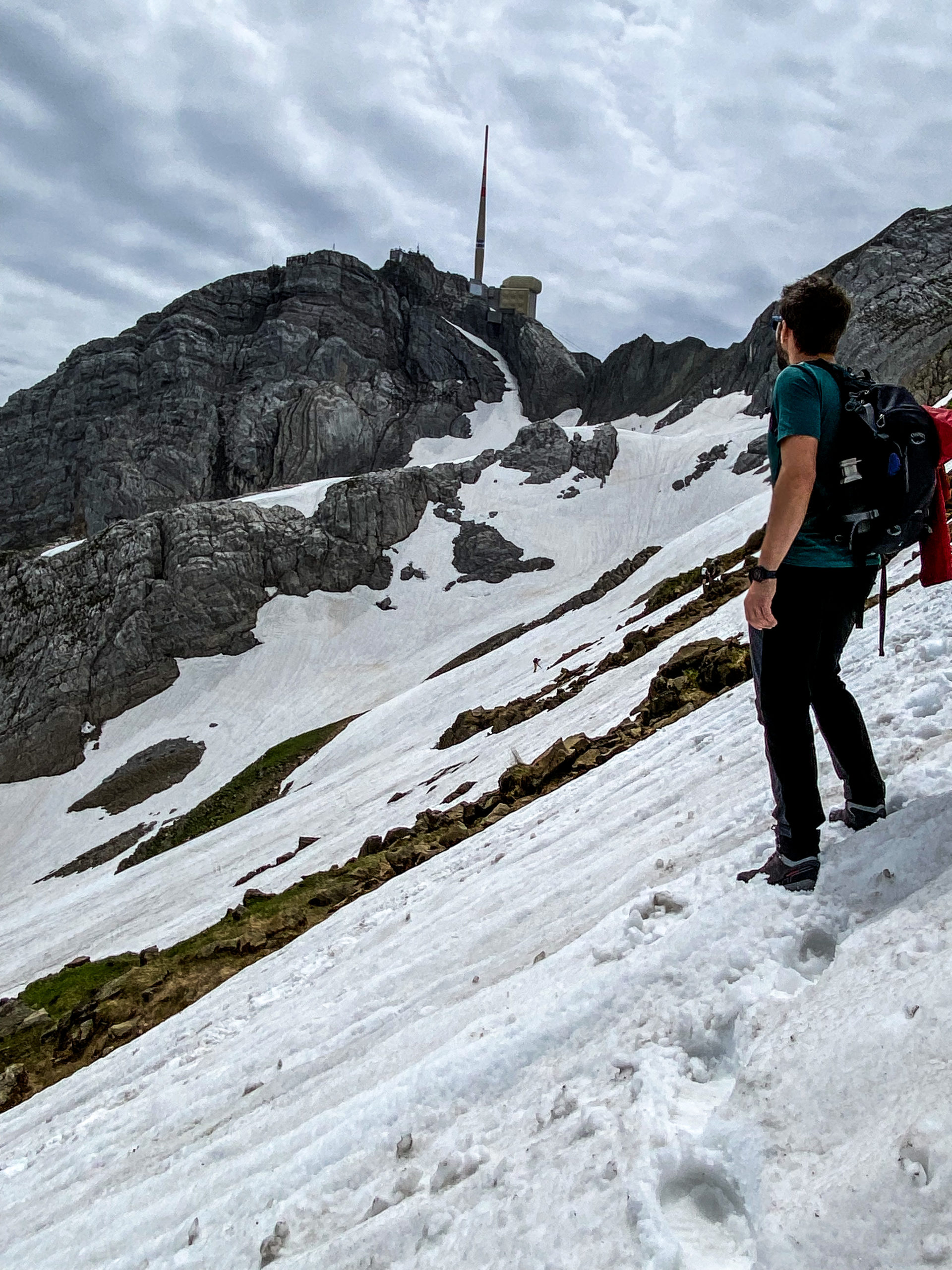 De aici până la baza urcării pe Säntis, drumul l-aș compara cu frământatul aluatului pentru cozonac. Zăpada îl va face destul de greu accesibil. Pe noi ne-a încetinit destul de mult. Oricât de încărcate v-ar fi bateriile cu siguranță aici vor începe să pâlpâie puțin pe avarie. Să aveți ghete de hiking înalte ar fi o soluție nuanțată.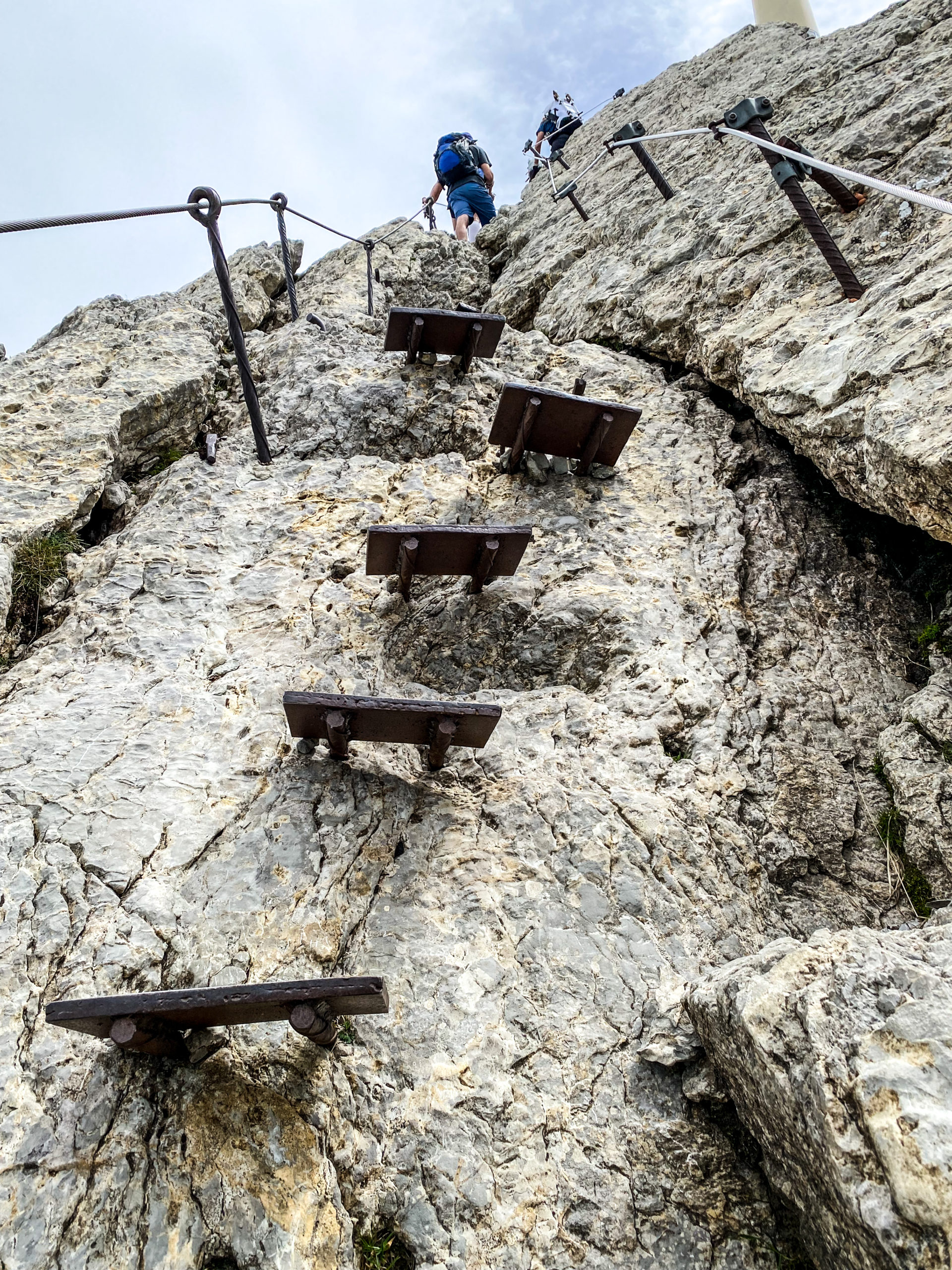 Ultima ascensiune de 200m până pe Säntis este o joacă serioasă și tehnică. Te simți ca în sala de escaladă. Diferența cu siguranță va fi făcută de pârghiile largi și cablurile la tot pasul de care să te ții. Gradul de ascensiune poate ajunge și la 90 de grade. Dacă ai probleme de înălțime nu cred că este indicat să urci până pe Säntis, dacă analizezi mai bine ultima porțiune.
Vârful Säntis (2501,9m)
Vârful Säntis este un complex de terase, restaurante și locuri de cazare. N-am să intru în aceste detalii căci le poți găsi pe acest articol din MySwitzerland și de pe siteul SäntisBahn. Un popas aici este binemeritat. Prețurile nu sunt chiar atât de mici. O bere pleacă de la 7CHF, o sticlă de apă de 1,5l la 7,5CHF și o Goba Cola 6CHF (da, Goba Cola și nu Coca Cola … nu întrebați). Bellevue-ul este incredibil de mișto din mai multe locuri ale platoului construit pe acest cumul de stânci. MySwitzerland.com susține că panorama de pe Säntis ar cuprinde șase țări dacă este observată în toate direcțiile și de pe toate platourile.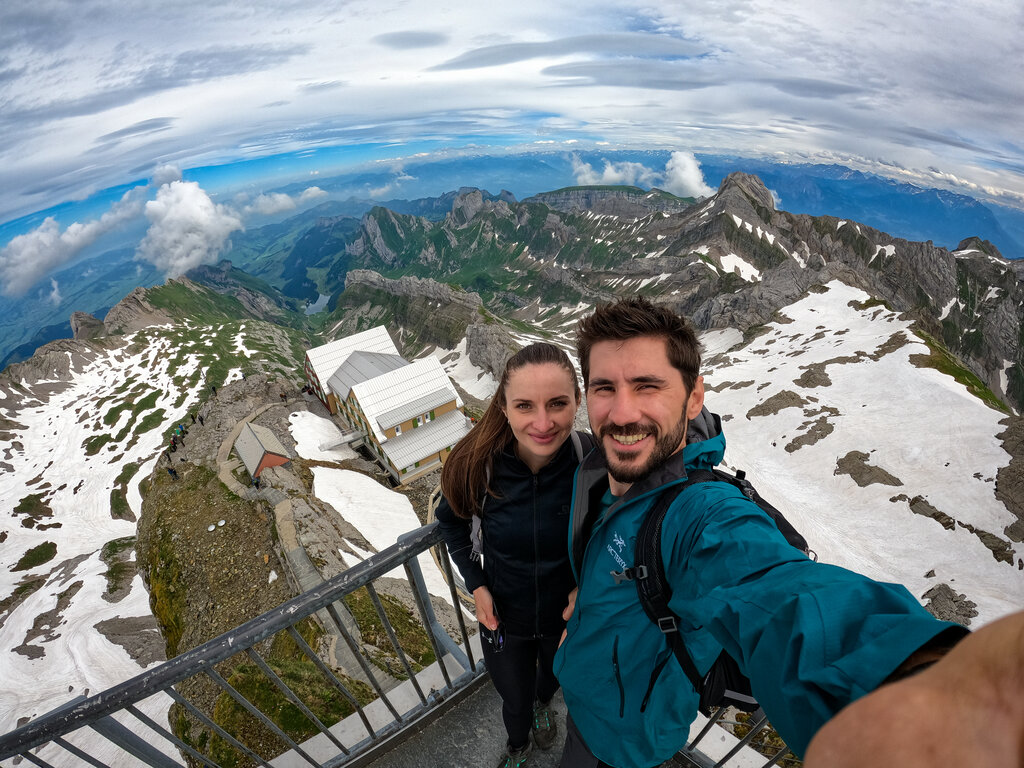 Cel mai rău ne-a părut aici că nu am avut un binoclu. Dacă ai loc un rucsac say dacă vii cu telecabina pe Säntis (ceea ce multă lume face), fie caută un observator cu un binoclu profi fie împrumută unul. Säntis este locul perfect de a observa (cu puțin noroc) ibex-ul și golden eagle-ul. Din păcate noi nu am avut un mare succes în acest sens.
Întoarcerea spre Wasserauen
De pe Säntis ai ocazia să continui cu mai multe trasee. Ca să poți ajunge înapoi în Wasserauen ai două posibilități. De pe terasa restaurantului Säntis (cea cu un aspect mai rustic) începe o potecă care semnalează drumul spre Wasserauen. Aceasta duce direct în vale spre lacul Seealpsee.
O alternativă a acesteia o reprezintă traseul ce ocolește puțin coborârea prin Rotsteinpass. În ascensiunea spre vârful Säntis, imediat după urcarea tehnică, intrarea spre platoul vârfului Säntis se face printr-un tunel. În tunel vei da de o ușă pe partea dreaptă care te va duce către platoul Säntis și continuând tunelul vei merge spre Rotsteinpass și Unterwasser.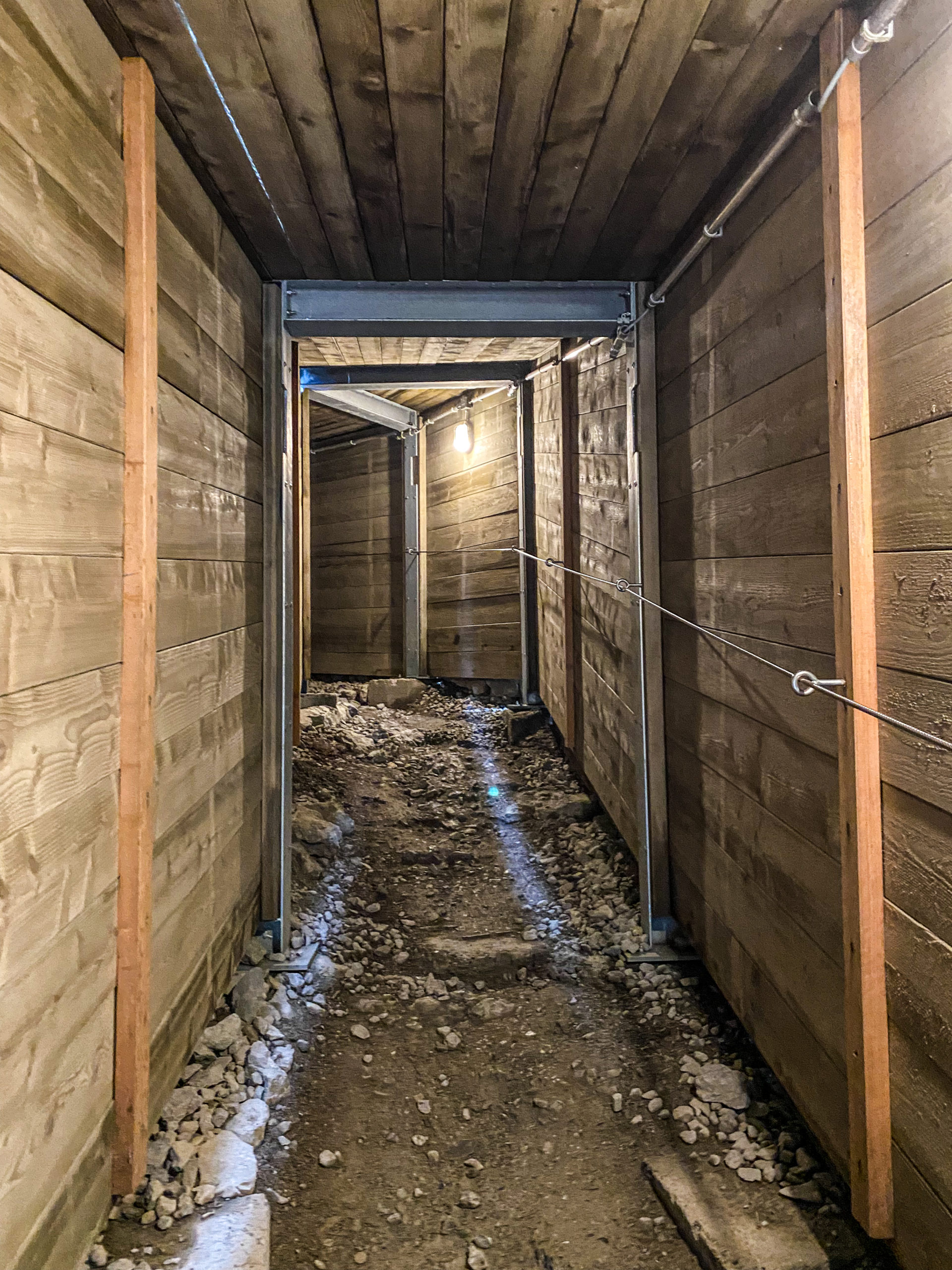 De pe Säntis se întind elegant trei creste muntoase. Diferența dintre ultimele două pe care nu le-ai făcut deja este că drumul de la restaurant direct spre Wasserauen va trece pe lângă creasta de mijloc, iar cel spre Rotsteinpass va continua pe cealaltă creastă. Dacă îți face cu ochiul acest traseu îl regăsești here.
Acest traseu secundar a fost planul nostru inițial. Ploaia care se anunța grăbită spre Säntis ne-a cam ajustat roadmapul și timpul de a poposi aici. Încă 10km de hike se întindeau în fața noastră.
Înapoi spre Wasserauen
Coborârea te va duce prin același tip de drum cu zăpadă moale (în cazul în care mergi prin iulie) ca și cel pe care l-ai întâlnit la urcat. Dacă mergi în altă perioadă, va trebui să fii foarte atent. Zona stâncoasă este puțin tehnică și ceva mai multă apostrofare în atenția locului unde vei păși ar trebui să fie suficientă. Coborârea în esență nu este atât de abracadabrantă. Prin zăpadă chiar este rapidă și amuzantă. Yabadabadoo…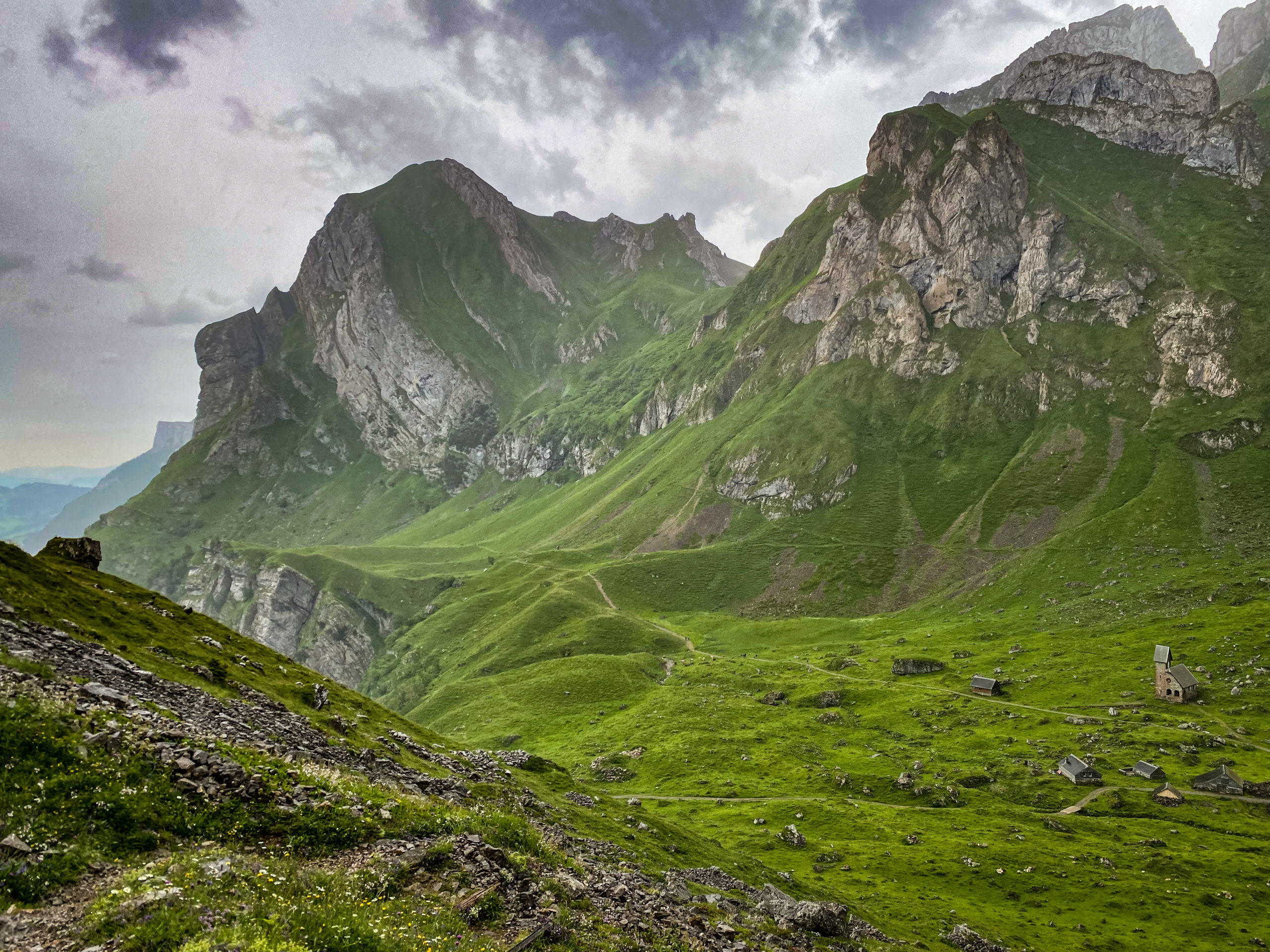 Din fericire sau nefericire (după caz), pe noi ne-a prins ploaia în trei serii pe toată coborârea. După secțiunea de zăpadă de la baza vârfului Säntis, începi să cobori până spre Berggasthaus Meglisalp, un popas între Säntis și Seealpsee. Zona este magică… iar sunetul tălăngilor de la văcuțe face totul autentic și pitoresc.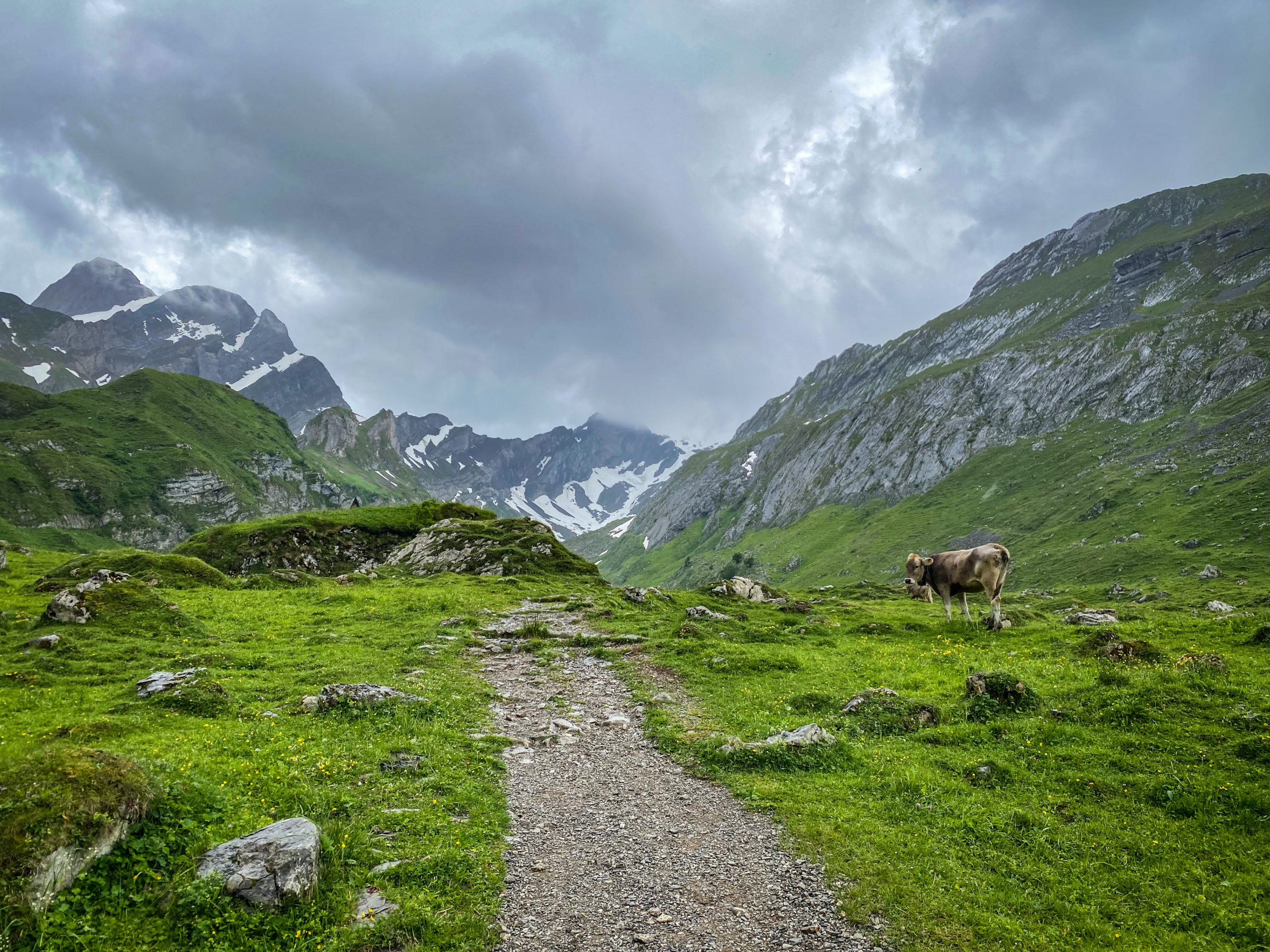 Traseul continuă cu o coborâre de pe versantul platoului până spre lacul Seealpsee. Aceasta coboară 400m într-un zig-zag format din scări, roci și spre final ieșirea din pădure întâmpinată de marginea lacului. De aici până în Wasserauen nu mai sunt decât 1h și 200m de coborâre, pe un asfalt destul de abrupt… dar accesibil. Noi ne-am întors cu un ritm destul de lent. Am preferat să ne bucurăm ca doi copii de ploaia măruntă și caldă a verii.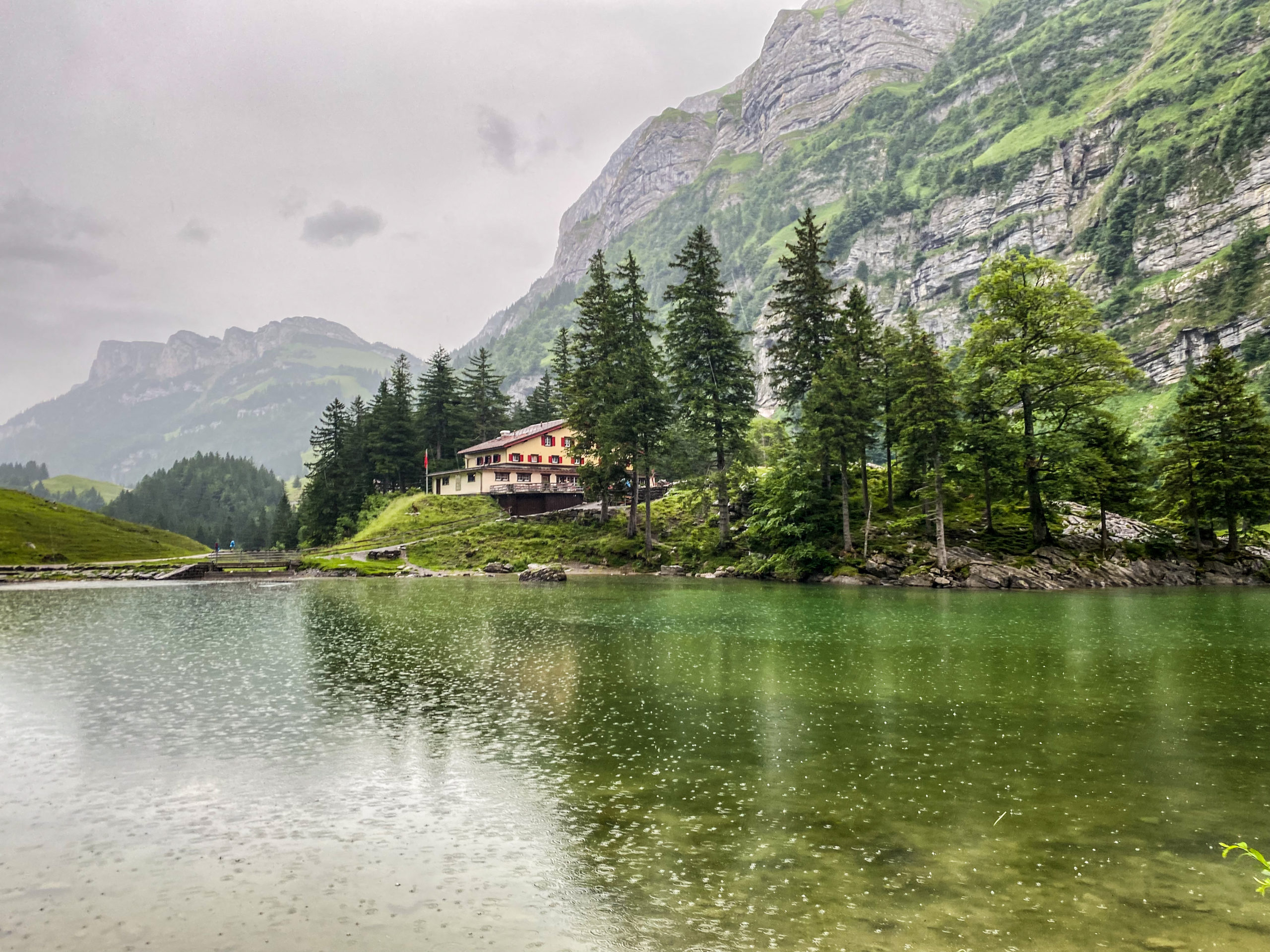 Pe acest traseu cred că este necesar per total să analizezi vremea. Este important să vezi cât de mult timp ai la dispoziție, forță și cel mai esențial să fii relativ în formă. Nu e nevoie să fii atlet, dar nici să nu fi făcut un hike de 10km pînă atunci. Există riscul să nu savurezi ziua în adevărata ei splendoare și nu ar avea sens să-l faci așa.
Alte trasee: